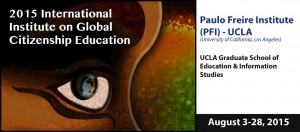 The UNESCO-supported Global Education First Initiative (GEFI) has encouraged national government agencies, transnational and non-governmental organizations, teachers, and researchers to pursue various policies, programs, and pedagogies for global citizenship education (GCE).
However, many questions remain regarding the nature and possibility of education that can foster global citizenship. The Paulo Freire Institute – UCLA International Institute on Global Citizenship Education seeks to address such questions as:
• What is GCE and how can it address global problems?
• What and whose values and skills should be included in GCE?
• How can GCE reconcile and complement national and local citizenship education?
• Who is GCE offered to and who is providing it?
• What are the best practices of policies, curricula and instruction of GCE?
Course description
Through lectures, participant-centered discussions, and workshops, participants will explore the literature, current research, and best practices of GCE through local, national, regional, and global perspectives. Emphasizing and incorporating participants' needs and experiences, the Institute will create a critical space where they can share, debate, network, and most importantly construct viable policies, curricula, and pedagogies for the implementation of GCE inside and outside the classroom.
Who should participate?
Policy-makers
Government officials
Researchers
Click here for more information or contact GCEcourseUCLA@gmail.com