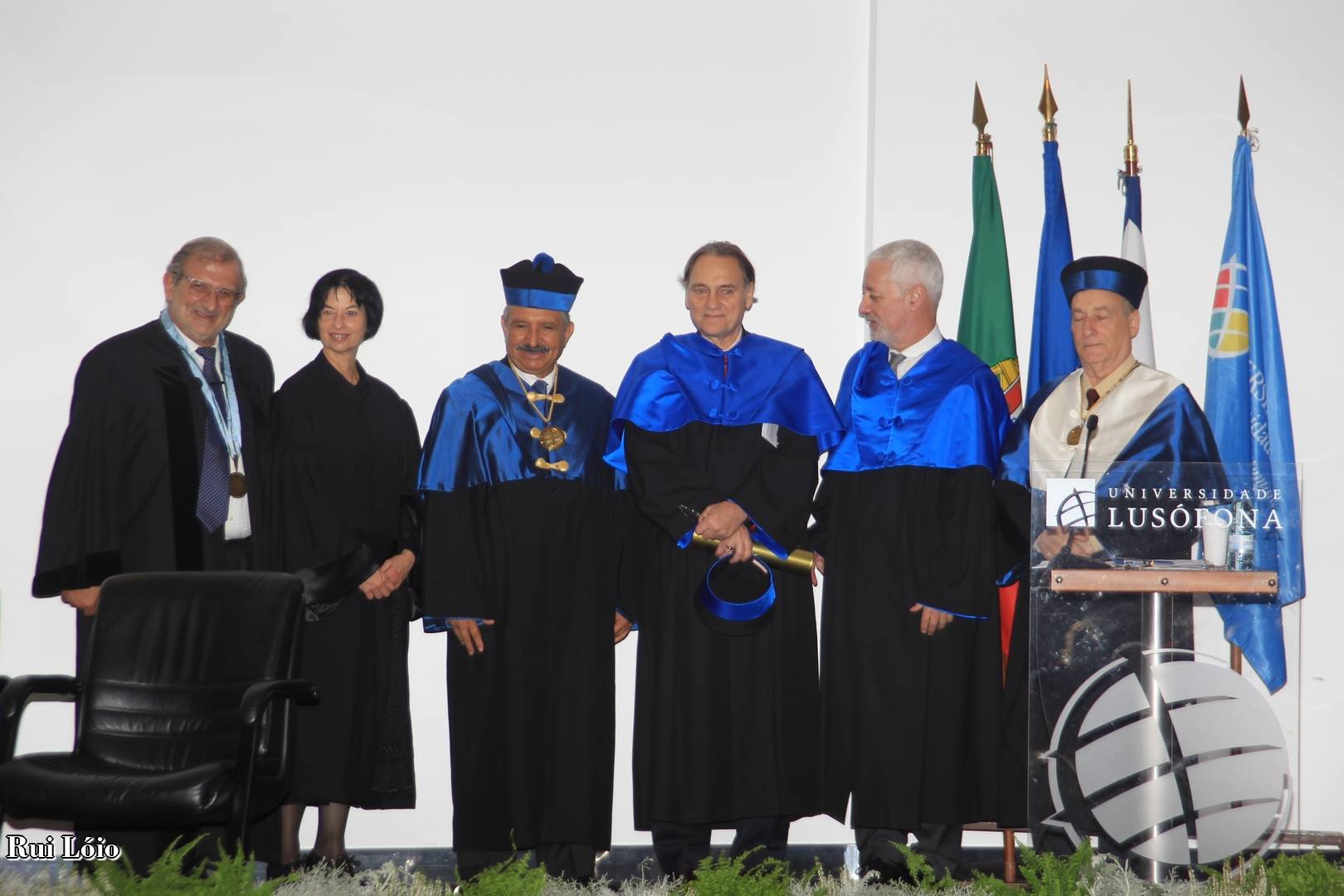 On October 25, 2016, the Universidade Lusofona de Humanidades e tecnologias awarded the title of Doctor Honoris Causa to Dr. Carlos Alberto Torres and Dr. António Manuel Seixas Teachers Sampaio da Novoa. The ceremony took place in the Auditorium Agostinho da Silva.
Please find below the English version of Dr. Carlos Alberto Torres' Words of Appreciation upon receiving the Honoris Causa Doctorate:
"Distinguished Administrator and President of COFAC, Professor Dr. Manuel Damásio; Magnificent Rector of the Universidade Lusófona of Humanities and Technologies, Professor Dr. Mário Moutinho; my illustrious academic godfather, Professor Dr. Antonio Teodoro; Most Illustrious Professor Dr. Antonio Manuel Sampaio da Nóvoa; Professor Dr. Rita Hofstetter; Dignitaries; illustrious colleagues; Students and Alumni; Ladies and Gentlemen,
It is with a deep feeling of happiness, pleasure and humility that I receive this Honorary Doctorate from this exalted place of study, the Universidade Lusófona of Humanities and Technologies.
In one of my books I argue that if you scrape or scratch a theory, you will find a biography.  Few people know that my connection with the Portuguese language, which I never formally studied, dates back awhile and has left its mark on my scientific work as well as my literary efforts.
In 1975, I was living in Patagonia and investigating the work of a Brazilian intellectual, Paulo Freire who, in a matter of years, would become a classic reference point in the field of education.  But that was not the case in 1975.  After the fanfare created by the publication of Education for Critical Consciousness and Pedagogy of the Oppressed, enthusiasm for Freire's work dwindled.  In the first reviews of his work in the United States, he was depicted as a revolutionary adult educator.  As far as I am concerned, that is a threadbare, frivolous definition, even for that era.  In 1975, I wrote my first scientific article and sent it to be published in Synthesis Review, a Brazilian Jesuit journal of great distinction.  The article was entitled "The Hegelian dialectic and Paulo Freire's logico-structural thinking. Notes for an analysis and confrontation of the philosophical presuppositions present in the dialectic of Pedagogy of the Oppressed and of Freire's thinking in general. "  It was translated into Portuguese by someone at Synthesis and published in Rio de Janeiro in 1976.
That same year I arrived in Mexico City as a political exile where I  completed three books about Paulo Freire while studying for my Master's in Political Science at the Latin-American Faculty for Social Sciences, FLACSO.  These books were published as a trilogy by Gernika, a brand new publishing house founded in Mexico by Franklin Ramos, the son of Spanish exiles.  The books were also translated into Portuguese and published in Rio de Janeiro by Loyola Editions, a Jesuit publishing house.  The books were Dialogue with Paulo Freire  (1979), Consciousness and history: Paulo Freire's educative praxis (1979), and A critical reading of Paulo Freire (1981).  The Brazilian military dictatorship was still at the height of its power and reading Freire in his homeland was banned.  However, Torres Novoa, as I signed my books at that time, was unknown and therefore not prohibited.  So it was, as quite a few Brazilian intellectuals later admitted, that my trilogy served to bring them closer to Freire.
To come full circle in this account of my gratifying and historic connection with the Portuguese language, in 2005 I decided to set my first novel, Sir Charles' Manuscript, in Portugal.  My well-connected friend, Professor Antonio Teodoro, introduced me at the erstwhile publishing house, Dom Quixote, where they read the manuscript I had written in Spanish and offered me a contract for its Portuguese publication in 2005.
So you see, both my first scientific essays and my first novel were published in Portuguese, first in Brazil and then in Portugal.
Today my connection with the Portuguese idiom and Brazilian culture is strengthened daily at the property in Topanga, California where I live with my wife, Ana Elvira Steinbach Torres.  Thus in Topanga, as in so many other parts of the world, the Tower of Babel has been toppled—Ana, a marvelous woman and first class intellectual, and I are shameless polyglots.
Now let me analyze the kind of intellectual contribution I attempted, after four decades of work at the crossroads of politics and pedagogy.  For critical theorists, research and political struggle cannot be separate, since intellectual work and activism are part and parcel of our daily life in the academy.  Paulo Freire argued that politics and education are inextricable.  This is also true of intellectual effort and political struggle which are not easily dissociated, not even for merely didactic purposes.  We engage in research and instruction to transform the world, not simply to observe what is going on around us as disconnected scientists or to manipulate knowledge as social engineers.  Critical academics do not share with "other" technocrats the illusion that knowledge manipulation is, in their parlance, the forceful application of instrumental rationality.
Life is a dialogue between experience and meaning.  This brings to mind a few lines from "Dry Salvages," the third of T.S. Eliot's "Four Quartets:"
We had the experience but missed the meaning,
And approach to the meaning restores the experience
In a different form, beyond any meaning
We can assign to happiness.  I have said before
That the past experience revived in the meaning
Is not the experience of one life only
But of many generations—not forgetting
Something that is probably quite ineffable  (II)
What is also ineffable is that we are here now celebrating more than one millennium of the life of universities and the professoriat.  As professors, we express deep beliefs we have come to in the process of research and theoretical reflection.  Ours is an existential dialogue involving theory, investigation and praxis that makes the experience and meaning of disciplinary practice a quasi sacred act, an act of respect for the truth, even if truth is always a social construct.  Thus, as professors, we are cultural workers and, because all narratives are culturally constructed, we need to question them.  Because each narrative is not necessarily as valid or as persuasive as the next, or as empirically documented and methodologically solid, they do not always offer us a probable logic that allows us to understand and transform reality. So why do we professors, both men and women, put so much stock in our disciplines?  Why do we seek and undertake research and, finally, when we do these things, what is it we accomplish?
The great Uruguayan essayist and poet Mario Benedetti paid a visit to Cuba and, speaking with a famous Cuban percussionist, asked him when he played.  "When my hands get hot," the drummer answered.  His answer is both existentialist and folkloric.  It reminds us why we do the things we do. Whenever professors' hands get hot, we write.  For us, writing is a solemn apprenticeship we would be wise not to postpone.  And, like all such acts of learning, it is sacred.
Allow me to recall the words of Saint Thomas Aquinas to which Moacir Gadotti once introduced me in one of our ceaseless dialogues: "Be careful of the one book man."  For Saint Thomas, this sole book was doubtlessly the Bible.
However, people may actually think there is something wrong with a professor declaring his or her beliefs in authentic dialogue with classes full of students, or as a public intellectual mediating in meetings with the people, on the internet, in blogs, in books, on TED talks.  There is something fundamental in this task—not just fundamental but indispensable when promoting 'the science of the experience of consciousness,' to use the subtitle of one of the masterpieces of Western philosophy, Hegel's Phenomenology of Spirit.
 As someone who thinks of very important secular occupations like professor and researcher as sacred, I must recognize that common wisdom guides us as well.  In search of popular wisdom, I came across a maxim that moved me in a church in Vizcaya, a province in the Basque country of northern Spain: "Every idle word will do away with God."
This simultaneously epistemological and ethical warning made me think of a text that Freire repeated time and again throughout his life and which I think pertains to the duties of a professor who is also a public intellectual—words which make me want to unite with Paulo when he writes, in Pedagogy in Process: "Without exception, every book that I have written has been a report of the political and pedagogical activities with which I have been involved since I was a young man."
Here we try to close the circle of knowledge.  For critical intellectuals it is often very difficult to separate what is analytical from what is normative, to distinguish research from the teaching of "advocacy."  Not to recognize these as dilemmas is foolhardy.  We must not think that, because we employ a quantitative or positivist model of understanding in which we are analytically entangled with high-flying premises and impeccably mathematical formulae, we can forego responsibility and ascribe to the aforementioned dialogue of experience and knowledge a value totally devoid of human interest.  It is practically impossible to separate knowledge from human interest, with its consequent results.
I wish to conclude by recognizing, at this very important occasion, two aspects I must accept because of the way I have, thus far, conducted my work and my life as a husband, as a father, as a grandfather, as a colleague and as a human being.  "I am the page that I write," said the Cuban poet Miguel Barnet years ago.  I adopt his words as a succinct summary. 
That said, I am what life has allowed me to be: an intellectual from the South educated in the South, expelled by an ironclad and murderous Southern dictatorship, and educated in the North, working for many years in a Northern University.  Just as I would have wished it, in other words.
In the midst of our "society at risk," the resounding words of maestro Gabriel García Marquez as he accepted the Nobel Prize in Literature:
On a day like today, my master William Faulkner, said, "I decline to accept the end of man."  I would feel unworthy of standing in this place that was his, if I were not fully aware that the colossal tragedy he refused to recognize thirty-two years ago is now, for the first time since the beginning of humanity, nothing more than a simple scientific possibility.  Faced with this awesome reality that must have seemed a mere utopia throughout all of human time, we, the inventors of tales, who will believe anything, feel entitled to believe that it is not yet too late to engage in the creation of the opposite utopia.  A new and sweeping utopia of life, where no one will be able to decide for others how they die, where love will prove true and happiness be possible, and where the races condemned to one hundred years of solitude will have, at last and forever, a second opportunity on earth.
As critical intellectuals, we live between critique and utopia.  We cannot do anything in this respect.  We live in the labyrinth of our solitude.
To cite once more the words of maestro Marquez:
Poets and beggars, musicians and prophets, warriors and scoundrels, all creatures of that unbridled reality, we have had to ask but little of imagination, for our critical problem has been a lack of conventional means to render our lives believable.  This, my friends, is the crux of our solitude.
Again, I humbly acknowledge this honorary doctorate and extend my gratitude to you who have attended a momentous occasion for us honorees."
[English translation by Peter Lownds, October 31, 2016]
Watch the entire ceremony in Portuguese:
For more photos of the event, please follow this link